People's State of the Union", vowed to destroy the United States and conduct a reign of genocide:
"Deep State" forces led by the George Soros funded communist leaning MoveOn.org, the rabidly baby killing operation Planned Parenthood, and billionaire left-wing Democratic Party mega-donor Tom Steyer, quickly assembled a "whose-who" gathering of America's top elites that included Hollywood stars and music entertainers—and whom at their New York City radical gathering they called the "People's State of the Union", vowed to destroy the United States and conduct a reign of genocide:
Celebrities and activists gathered in New York City Monday night for the star-studded "People's State of the Union," a public rally meant to serve as counter-programming to President Donald Trump's first State of the Union address on Tuesday.
Actors Mark Ruffalo, Alyssa Milano, John Leguizamo, Cynthia Nixon, Amy Schumer, Kathy Najimy, Patricia Arquette, Rosie Perez, and Gina Gershon were joined by Whoopi Goldberg, billionaire left-wing mega-donor Tom Steyer, musicians Common and Andra Day, and documentary filmmakers Michael Moore and Fisher Stevens for the event, which was held at Manhattan's Town Hall Theater and live-streamed online.
Other speakers included immigration activists and other members of the anti-Trump "Resistance" movement, many of whom wore T-shirts with the phrase, "We are all Dreamers."
Ruffalo, a frequent and outspoken critic of the Trump administration, served as the night's de facto emcee.
"We're going to set our sights to continue that work in the next year, and strengthen our bonds and commitments to each other, for long after the Trump era comes to its rightful end," said Ruffalo. "We ain't stopping with Trump, okay?"
important  Deep state operative lesbian Trump hating Marxist. Rachel Maddow
Removing Trump, and Pence, and the whole disgusting lot of them… still won't be enough. We must remove and replace the system and the culture that gave us Trump in the first place.  As we seek to rid ourselves of Trump, we must also cleanse our American soul of our white male privilege. "Micheal Moore."
Michael Moore: America Must be "Cleansed" of its "White Male Privilege" https://www.infowars.com/michael-moore-america-must-be-cleansed-of-its-white-male-privilege/ …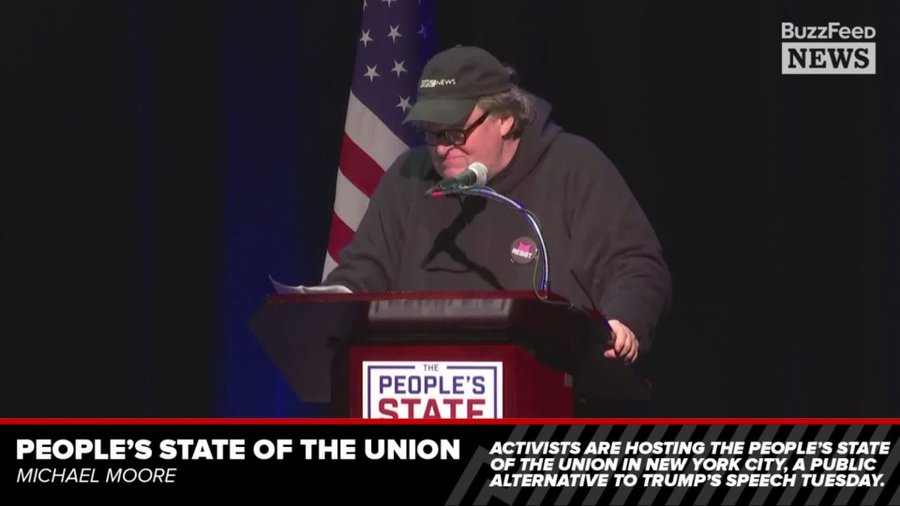 Moore, who released an anti-Trump documentary during the 2016 campaign and later mounted an anti-Trump Broadway play, worked himself into a frenzy as he issued a "to-do list" for 2018, beginning with what he called the "widespread massive removal of Republicans from the House and Senate the likes of which this country has never seen."
This is all being done in conjunction with the secret government called the Deep state.
President Trump knowing that the "Deep State" planned the destruction of the United States in order to defeat him and his ideals which are  God, Family and America First,  President Trump choose the Lincoln Bible to be sworn into office upon—and was the Bible used by President Abraham Lincoln when he took his oath of office on 4 March 1861—
Lincoln upon taking power, like Trump today, was confronted by a Democratic Party intent on war—with the masses of the American people still today having kept from them the truth that the Democratic Party defended slavery, started the Civil War, founded the KKK, and fought against every major civil rights act in US history.
President Lincoln confronted by a radical and fanatic Democratic Party aligned mainstream media establishment intent upon his destruction—but that Lincoln countered by closing down over 300 Democratic Party aligned newspapers and ordering his War Department to arrest and jail tens-of-thousands (lowest estimate is 13,535) of their journalists, editors and owners.
Article One, Section 9, Clause 2 of the US Constitution States.
"The privilege of the writ of habeas corpus shall not be suspended, unless when in cases of rebellion or invasion the public safety may require it."—and his Habeas Corpus Suspension Act 1863 to legally justify his mass arrests,
The fearful and formidable weapon President Trump has at his disposable to the same thing is contained in a law he just reauthorized weeks ago (on 12 December 2017) called the National Defense Authorization Act (NDAA)—and whose provisions authorize the indefinite military detention, without charge or trial, of any person labeled a "belligerent"—including an American citizen.
The "Deep State" and its supporters have already crossed the red line and have, in fact, become "belligerents"—and as defined by the all encompassing 18 U.S. Code Chapter 115 – TREASON, SEDITION, AND SUBVERSIVE ACTIVITIES laws—the most serious of which is 18 U.S. Code § 2385 – Advocating Overthrow Of Government that says:
Whoever knowingly or willfully advocates, abets, advises, or teaches the duty, necessity, desirability, or propriety of overthrowing or destroying the government of the United States or the government of any State, Territory, District or Possession thereof, or the government of any political subdivision therein, by force or violence, or by the assassination of any officer of any such government; or
Whoever, with intent to cause the overthrow or destruction of any such government, prints, publishes, edits, issues, circulates, sells, distributes, or publicly displays any written or printed matter advocating, advising, or teaching the duty, necessity, desirability, or propriety of overthrowing or destroying any government in the United States by force or violence, or attempts to do so; or
Whoever organizes or helps or attempts to organize any society, group, or assembly of persons who teach, advocate, or encourage the overthrow or destruction of any such government by force or violence; or becomes or is a member of, or affiliates with, any such society, group, or assembly of persons, knowing the purposes thereof—
Shall be fined under this title or imprisoned not more than twenty years, or both, and shall be ineligible for employment by the United States or any department or agency thereof, for the five years next following his conviction.
So what happens next? Trump has weathered every storm and they are now attempting to head him off at the pass as the counter attack begins soon in earnest.
Here comes the FISA Memo
Speaking to Fox News' Tucker Carlson Monday, Bongino claimed the much-anticipated memo, soon to be released pending President Trump's approval, could implicate many in the previous administration, including President Obama and former Secretary of State Hillary Clinton.
'All of this spying was probably being inserted into daily briefs by Barack Obama'
On Tuesday on MSNBC's "Morning Joe," Joe Scarborough castigated House Intelligence Committee chairman Rep. Devin Nunes (R-CA) and House Speaker Paul Ryan (R-WI) for Monday night's vote to release a memo to the public that reportedly alleges wrongdoing in U.S. intelligence agencies.
Psycho Joe Scarborough called the memo part of a "cynical game" targeting law enforcement for a "political purge."
We are on the verge of the Rats being rounded up
THE PURGE: RATS ARE BEING ROUNDED UP