The earth is broken asunder, The earth is split through, The earth is shaken violently. 20The earth reels to and fro like a drunkard And it totters like a shack, For its transgression is heavy upon it, And it will fall, never to rise again. 21
So it will happen in that day, That the LORD will punish the host of heaven on high, And the kings of the earth on earth.…
Mother Shipton prophecy
Inuit Elders tell NASA Earth Axis Shifted
The Inuit Tribe are indigenous people who live in the Canadian Arctic, Greenland, Siberia and Alaska. Their elders have written to the National Space and Aeronautics Administration (NASA) to tell them that the earth's axis has shifted. The elders do not believe that carbon emissions from humans are causing the current climate changes.
The sky has changed, claim Inuit elders
The Inuit elders note climate change in the melting glaciers, deterioration of sealskin, and burns on seals, and disappearing sea ice. The attribute these changes in climate to changes in the sky.The tribal elders claim that the sun no longer rises where it used to rise. The days heat up more quickly and last longer. The stars and moon are also in different places in the sky and this affects the temperatures. This is a population that relies on the placement of the moon and stars for their survival as they live in total darkness during part of the year.
The elders say they can no longer predict the weather, as they have been able to in the past. They observe that warmer winds are changing the snow banks, making their ability to navigate overland more difficult. Polar bear populations are increasing, which causes the bears to wander into the Inuit neighborhoods.
is this evidence of the earth tilt as snow all of a sudden blankets middle east and parts of Asia
Snow blankets the Middle East
A rare cold front swept through the middle east on Thursday and Friday, blanketing parts of Israel, Jordan, Syria and Lebanon with snow.
Roads in and out of Jerusalem were closed and streets deserted in the Jordanian capital of Amman.
The snow covered large swathes of desert, and Jerusalem's famous western wall and Bethlehem's nativity church were sprinkled with white.
The Syrian capital Damascus and surrounding mountains also got snow, while a snowstorm in neighboring Lebanon closed most mountain roads, isolating villages.

Snow covers the area around the Church of All Nations in the Garden of Gethsemane, east Jerusalem.

Image caption An ultra-Orthodox Jewish man walks near Damascus Gate in Jerusalem's Old City as snow falls.
Deaths in Japan and Taiwan as record cold snap hits east Asia
At least 95 people die as record-low temperatures in region bring snow and ice cause flight cancellations and leave thousands stranded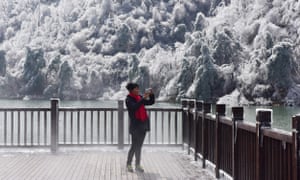 Snow, sleet and icy winds across east Asia have caused deaths, flight cancellations and chaos as the region struggles with record-low temperatures due to an Arctic cold snap that brought snow to several tropical areas for the first time in many people's lifetimes.
In Taiwan, the capital Taipei recorded a low of 4C (39F), the coldest in 44 years. Local media said 90 people had died due to the cold weather, mainly from hypothermia and cardiac arrest. Five more died in Japan.
Hundreds of flights were cancelled across the region, tens of thousands of holidaymakers were stranded in South Korea, and freezing conditions in sub-tropical Hong Kong caused mayhem on its tallest peak.
In northern Vietnam, snow blanketed mountain areas as the wave of cold air arrived on Sunday to Lào Cai province. In the capital, Hanoi, it dropped to a milder 6C, although authorities said that was the coldest the city has been for two decades.
Blizzard and hurricane winds kill 19 people in north-eastern US states
Read more
The southern Chinese city of Guangzhou, which is by the tropic of Cancer, saw sleet for the first time in 60 years, the local meteorological station said. Residents posted photos online of small snowmen they had made, quickly constructed from a thin layer of icy flakes that fell on cars and roads.
A Guangzhou driver, Wang Jun, told the South China Morning Post that he had never seen sleet throughout his 20 years working in the city. "I woke up at 6am to work and saw small pieces of ice hit my windscreen. It stopped for a while, but happened again half an hour later. And then there was sleet at about 11am," he said.
"It's the first time I've see that. It's very beautiful," he said.
The cold was caused by a polar vortex, a large cyclone that pushed south from Siberia and unusual meteorological occurrence for east Asia.
In Bangkok, labelled the planet's hottest city by the World Meteorological Organisation for its mean air temperature of 28C, the mercury dropped to 16C on Monday. Scarves and padded jackets, normally bought only as winter holiday items by residents of Bangkok, appeared in the city as locals dealt with the unusually cool weather.
During the peak tourism season, the sea in many areas was dark and rough as grey clouds hung overhead.
Hundreds of flight cancellations left tens of thousands of holidaymakers stranded in South Korea, after the biggest snowfall in three decades shut the airport on the resort island on Jeju.
In China, 24 weather stations recorded all-time low temperatures. Further north, in Inner Mongolia, the temperature dropped to a record low of -46.8C (-52F) and in China's eastern city of Qingdao, fishing boats were stuck fast in the frozen waters.
Deaths, travel disruption as bitter cold grips Asia
CNN)Record low temperatures have wreaked havoc in several Asia countries, with 85 people reported dead in Taiwan and tens of thousands stranded at airports because of the unprecedented cold snap.
Taiwan authorities advised people to stay indoors after the deaths, while in Hong Kong, teeth-chattering temperatures forced kindergartens and primary schools to shut Monday.
China renewed an orange alert, its second most serious weather warning, with major highways blocked by snow and sleet just as peak travel season for the Lunar New Year vacation kicks off.
Taiwan
Across the strait, Taiwan's official Central News Agency (CNA) said the cold weather had claimed dozens of lives.
As of Sunday evening, local, at least 85 people have died in Taiwan due to hypothermia or cardiovascular diseases caused by the sudden drop in temperature, state media reports, citing local fire and emergency services officials.
In some places where it should be in the depths of winter is all gone very mild.
UK weather: Balmy Britain basks in record December temperatures
Unseasonably warm weather across the UK has seen daffodils blooming as far north as Ayr. Temperatures are expected to continue in the double figures for the next week – possibly reaching as high as 16C in London on Saturday.
Other parts of Europe and north Africa have also seen particularly mild weather over recent weeks, which can all be attributed to the same factors, BBC Weather's Steve Cleaton says.
"Interestingly, north-eastern parts of the USA have also seen incredibly mild conditions in the past few days, which can again be attributed to very large kinks in the jet stream that are likely linked to the El Nino event described recently," he says.
Long range weather forecast for France 2016
First quarter of 2016.
Long range forecast.  The French weather service forecasts that the period January to March 2016 will be milder than normal for the time of year. Precipitation (rainfall) is likely to be above average for the time of year in northern France, and about average in the southern third of the country.
Spring 2016
Looking further ahead, Meteo-Express.com forecasts that April 2016 will be warm and dry, with temperatures almost 2° above the average for the time of year in the southern half of France and rainfall 20% below normal. May temperatures will be about normal, while rainfall will be above normal in the north of France.
2015 – a year to remember…
Forecasters said it might be a warm year, and this time they seem to be right. Record warmth in April, days at 30° in many parts of southern France in early May, and record June temperatures in parts of the southwest, peaking at well over 40°. And the first day of July saw historic July records broken in several locations, as the heatwave continued….  A remarkable change from July 2014.
The second half of 2015 was remarkably mild in many parts of France. Many parts of southern France had temperatures into the mid twenties well into November,  and even up to or near 20°C (68°F) into December SOURCE
NASA IS STAYING SILENT EVEN THOUGH THEY JUST ANNOUNCED PLANET X
Astronomers say a Neptune-sized planet lurks beyond Pluto
After years and years of lying about Planet X they are slowly disclosing it now that it may be to late.
The solar system appears to have a new ninth planet. Today, two scientists announced evidence that a body nearly the size of Neptune—but as yet unseen—orbits the sun every 15,000 years. During the solar system's infancy 4.5 billion years ago, they say, the giant planet was knocked out of the planet-forming region near the sun. Slowed down by gas, the planet settled into a distant elliptical orbit, where it still lurks today.
The claim is the strongest yet in the centuries-long search for a "Planet X" beyond Neptune. The quest has been plagued by far-fetched claims and even outright quackery. But the new evidence comes from a pair of respected planetary scientists, Konstantin Batygin and Mike Brown of the California Institute of Technology (Caltech) in Pasadena, who prepared for the inevitable skepticism with detailed analyses of the orbits of other distant objects and months of computer simulations. "If you say, 'We have evidence for Planet X,' almost any astronomer will say, 'This again? These guys are clearly crazy.' I would, too," Brown says. "Why is this different? This is different because this time we're right." more
Is it to do with climate change?
FROM SCIENCE JOURNAL
They are also telling us this new planet x has a solar system coming with it. Amazingly completely ignoring the fact that they have denied this for years and years.
conspiracy theorists seem to have got it right
Observations of the orbits of six small objects have led researchers to propose a very large 9th planet–100s of astronomical units (AU) away from the sun. Far enough away that this Neptune-sized planet takes ~15,000 years to complete one orbit. Read more: http://scim.ag/1Ownvti
URGENT-NASA Caught In Huge Lie & We Are In Serious Danger! Time To Pray Harder Than Ever!
NASA has just been caught in a huge lie…and things are getting more serious than ever before! If there was ever a time to lie down flat on our stomach, just like King David did, and show total humility to God, the time is right now!  —Lyn Leahz
Planet X just revealed by Google Sky? Black swath gone, 'winged disk' visible
Via Google Sky/DSS Consortium , SDSS, NASA/ESA
By Shepard Ambellas
OUTER SPACE  — For years it has been speculated by conspiracy theorists and some astronomers that Google Sky had been censoring what's known asPlanet X or Nibiru from the general public's view online.
Now, shockingly, a massive swath of Google Sky that had been previously blacked out and censored has been made visible by Google for your viewing pleasure. The image below shows the system as censored by Google for years.
Via Google Sky 2007
As of now it's currently unknown why Google unrestricted access to the planetary system which was the focus of the late Zecharia Sitchin who wrote numerous publications on the planet Nibiru.
In the image below, shot in 2015, you can clearly see the winged disk as described by Sitchin and others. It's almost uncanny.

Via Google Sky/DSS Consortium , SDSS, NASA/ESA
The system is currently located at:
Although we can't say for sure that this is Nibiru, it sure does match all descriptions.
Forecasting The End: Rogue Planet
Earth Tilting/Mini Ice Age/Asteroid Update/Cosmic Ray Rise.
A catastrophe ominously looms on the horizon. Planet X, a huge planetary body, or star, is headed our way. Described as a great "Red Star," the path of this approaching, heavenly object puts it on a potential, head-to-head collision course with our planet, Earth.
And the third angel sounded, and there fell a great star from heaven, burning as it were a lamp…And the name of the star is called Wormwood…and many men died…
(Revelation 8:10-11)
Freemasonry and the occult world have long awaited the arrival of Planet X. The occultists, in their Secret Doctrine, teach that the ancients once worshipped gods and deities, mighty men of reknown, who came to Earth from the heavens, from a planet star called Sirius.
The Egyptians knew this star, Sirius, as Dogon, the "Dog Star" and worshipped it under its guise as Anubis, the jackal-headed god. From its name were also derived the names of the chief deities of the Egyptian religion and culture, Osiris (Lord of the underworld) and Isis (the star goddess).
Noah and The Giants
Amazingly, the Holy Bible, in Genesis 6, describes an early time in the days of Noah when these star gods—in reality, Satan and the fallen angels, the Nephilim—committed the abomination of mating with the daughters of men, producing hideous hybrid. These supernatural offspring the Bible calls "giants." It was because of the unimaginable wickedness and sin of these hybrid man/beast "giants" that God decided to cause a flood to overflow the earth and destroy them all. Only Noah, whose blood and DNA were unpolluted, and his family survived the great flood.
The myths of the pagan religions of Sumeria, Babylon, and Egypt often told of lizard-like, reptilian ancient astronauts visiting earth, mating with women, and worshipped by ancient mankind as powerful gods and goddesses. Now, many New Age teachers and occultists are gladfully and expectantly proclaiming the soon return of these strange hybrid "dieties."
Yet, for whatever reason, God permitted a small number of the Nephilim to appear again years after the Noahic flood, and in Deuteronomy these monstrous, half-human creatures are called the Anakim, or Rephaim (literally—the "Congregation of the Dead!")
Scriptures prophesy the return of these satanic mighty men, these evil "giants," in the last days. Yet, not as gods, but as devils! In Matthew 24:37-39, Jesus warned that as it was in the days of Noah, so shall it be when Christ comes once again. Moreover, the return out of the abyss of these "stars" fallen from heaven shall be accompanied by incredible, mind-boggling signs in the heavens. As for Earth, the prophet Isaiah prophesied that mountains shall fall down and the planet will "reel to and fro like a drunkard."
Worse, even as one tragedy after another exacts its bloody toll on humanity, the Bible tells of the powerful beings who shall be unleashed from the bottomless pit and come abroad to torment men and women. Described with frightening impact in Revelation 9, these entities have a Star, or "King," over them, "which is the angel of the bottomless pit." Indeed, Satan himself shall be their leader of these "fallen ones."
Extraterrestrials Among Us—The Dark Truth
This, then, is the great Hidden Secret behind the heralded coming again of Planet X and its star gods and goddesses.
The movie moguls are telling us that interplanetary creators of humankind, our saviors and overlords, are soon to descend. As depicted in a score of UFO accounts, sci-fi stories, and blockbuster movies such as ET—The Extraterrestrial, Close Encounters of the Third Kind, Star Wars, the Jedi sagas, and so many more, these supernatural beings love us and wish to guide us peacefully into a New Age of intergalactic harmony.
This teaching is at the very core of theSecret Doctrine of Helena Blavatsky'sTheosophy, of L. Ron Hubbard'sScientology, and of Freemasonry's Siriusmystery teachings
Increasingly, we are being inundated with tales and accounts of UFO abductions, alleging that men and women are being taken into spacecraft and sexually used to create human/extraterrestrial hybrid beings. Does this have some connection to the Genesis, Chapter 6 account?
The truth, my friends, isn't "out there somewhere," as they proclaim on the popular TV series, The X-Files. It's found only in the prophetic pages of the Holy Bible. Isn't it time therefore, that Christians asked, what does God have to say about the tumultuous coming of Planet X?